Vada Morgan Cavanagh, RMT, Bsc (Math & Science)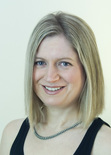 Registered Massage Therapist
As a former professional in the software development industry, I worked long hours at a desk. Massage Therapy helped me to recuperate physically from the demands of my job while reducing my stress levels. My interest in science and alternative health care inspired me to take the plunge and leave my IT profession to pursue Massage Therapy.
It's been an extremely rewarding choice.


My training includes:
Trigger Point Therapy
Neuromuscular Technique (NMT)
Myofascial Release (MFR)
Deep Tissue
Sports Massage
Lymphatic Drainage
Swedish Massage
Chinese Cupping Massage (for chronic pain, repetitive strain, scars)
Dry needling and Acupuncture
Hot Stone Massage
To keep grounded and healthy, I'm an avid runner having completed one full and eight half marathons. I enjoy hiking and camping with friends and family.
---